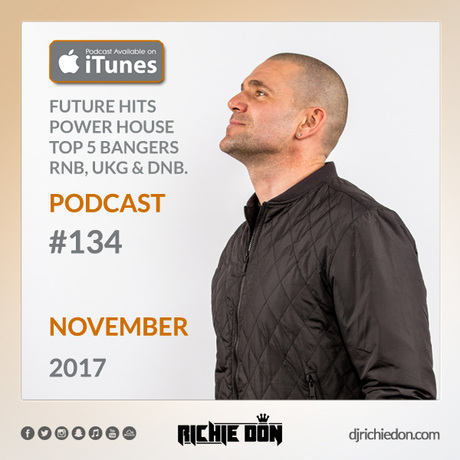 Nov 2017 | All Things House / Garage / Top 5 / Future Floor Fillers / RnB / DnB and More. An action packed episode!
Check the website for downloads and more: https://www.djrichiedon.com - Enjoy!
Podcast Intro
Till The Sun Rise Up - Bob Sinclar ft Akon
Havana - Charlie Lane Remix ft Camila Cabello + Young Thug
Replay - Ku De Ta Remix ft Iyaz
Lady - Ben Rainey Remix ft Modjo
Rhythm Is A Dancer - Brandon Stevenson Remix ft Snap
A Deeper Love - TRP + REZA Remix ft Aretha Franklin
Wild Thoughts - Cutmore Music Sounds Better Re Edit ft DJ Khaled
Make Love - Joe Stone
Billie Jean - DJ Dark + MD Remix ft Michael Jackson
Milkshake - Richie Don Edit ft Kelis vs Jason Reilly
Just Won't Do - Craig Knight + Studio Cross Remix ft Tim Deluxe
17 - MK
Creepin' - CID
2U - Tujamo Remix ft David Guetta + Justin Bieber
>> UK Garage:
Heartline - Conducta Remix ft Craig David
Bouncing Flow Remix - K2 Family
One More Time - BENZI Alone Bootleg ft Daft Punk
>> November Top 5 Club Bangers:
5. Aladdin - Brunelle Remix ft Not3s
4. Theme From S'Express - Richie Don Edit ft S'Express vs Detlef
3. Bodak Yellow - Sammy Porter Remix ft Cardi B
2. Man's Not Hot - MDB Remix ft Big Shaq
1. Mi Gente - Cedric Gervais Remix ft J Balvin + Willy William
>> RnB:
Tequila - The Champs
Single Ladies - Richie Don Edit ft Beyonce vs Stavros Martina
All That She Wants - Billy The Kit 2017 Remix ft Ace Of Base
Mundian To Bach Ke - Kidd Spin U Don't Know Bootleg ft Panjabi MC
Wonderwall - Cabuizee + Nikki X Remix ft Oasis
>> Clubland Saturday Soundtrack:
I Need A Painkiller - Armand Van Helden Vs Butter Rush
Tha Wild Style - Freejak Remix ft DJ Supreme
Run This Town - Riton Remix ft OFFAIAH + Shenseea
More + More - Proper Tings + SBS Remix ft Tom Zanetti + K.O Kane
Sunlight - Joel Corry ft Zoe Kypri
A Different Way - Tall Boys Back Bootleg ft DJ Snake + Lauv
Jack 2k17 - Kastra + WICKD
See You Again - Proper Tings
Bring The House - PBH + Jack Shizzle
Ya Kidding - Fisher
Ghost N Stuff - Matroda Remix ft Deadmau5
Dancing Is What To Do - Cutting Shapes ft Don Diablo
Thriller - Steve Aoki Midnight Hour Remix ft Michael Jackson
Waiting - Oliver Heldens + Throttle
Hypnotize - PBH + Jack Shizzle Remix ft The Notorious B.I.G.
Summer 99 - Richie Don Radio Edit - Tchami
>> DnB:
Lose Yourself - The Stickmen Mr Happy Bootleg ft Eminem
Tetris - Bad Company UK
Gold Dust - Autodidakt Remix vs DJ Fresh
Outro
Got an Iphone, Ipod or Ipad? Download the 'Podcast' app via the app store - search 'DJ Richie Don' and subscribe to receive future episodes automatically, for free, or search #Itunes #djrichiedon.
#Watch the #Facebook Live shows fortnightly on Sundays @ 9pm.
Like these sounds? Check out the new CD's available at https://www.djrichiedon.com.