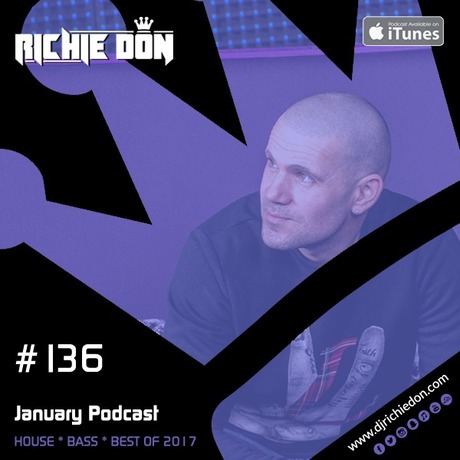 January 2018 : Happy New Year!
Podcast #136 is a 100 minute mix featuring fresh speaker shaking House and Future Bass for 2018, as well as a high octane mega-mix of the biggest house club bangers, from 2017 - as voted by YOU!
Got an Iphone or Ipad, then download the 'Podcast' app, search 'DJ Richie Don' and subscribe to receive future episodes automatically from #Itunes. For links and info visit: https://www.djrichiedon.com.
New Year Podcast Intro
17 - MK
One More Time - Hotblood Remix ft Daft Punk
I Wanna Dance With Somebody - TANA Bootleg ft Whitney Houston
Jump Around - Kastra Onik Bootleg vs House Of Pain
Came To Get Funky - Cazztek
Rolling In The Deep - DEAN-E-G Remix ft Adele
I See You Baby - Dan Judge Cola Edit vs Groove Armada
Gravel Pit - Freejak Remix ft Wu-Tang Clan
Finders Keepers - Jason Reilly vs Mabel ft Kojo Funds
Rockstar Remix - Special K
Calle Ocho - Danny Diggz 2K17 Bomb Bootleg vs The Bucketheads
A Different Way - Noizu Remix ft DJ Snake
Right Back - Jay Robinson ft NiQW n Ami Carmine
Wavey - CLiQ ft Alika
Bel Air - Boogie Vice
Jump N Shout - Erik Hagleton Remix ft Basement Jaxx
Forever - Majestic n Jay Robinson Remix vs Sigma + Quavo
>> Best of 2017 Club Anthems - As voted by YOU!
Whoomp - Tall Boys vs TRP vs Tag Team
Heads Will Roll - PBH + Jack Shizzle Remix ft Yeah Yeah Yeahs
Shape Of You - Majestic Remix ft Ed Sheeran
Bestie - DEAN-E-G Remix ft Yungen + Yxng Bane
Wild Thoughts - Cutmore Music Sounds Better Edit
Heartbroken - Elliott Kay + TRP Remix vs T2 + Jodie
Know My Ting - Gorgon City Remix ft Ghetts n Shakka
Tribesmen - Solardo
Run - Offaiah
Move Your Body - Freejak Remix ft Premiere Xpansions
Playing With Knives - Low Steppa vs Bizarre Inc
Bombjack - Ummet Ozcan ft Ambush
Pump Up The Jam - Tall Boys vs Technotronic
Got The Love - JVST SAY YES
Show Me Love - WillG + Beave vs Robin S
Bump 'N' Grind - Est1987 Remix vs M Dubs
A Bit Patchy - Sammy Porter
Gala vs Calabria - The Stickmen Mashup
Congratulations - Dzeko Remix ft Post Malone
Freek - Tom Budin
Back To Life - Codes Remix vs Soul II Soul
I Believe - Waxon The Bomb 2K17 Bootleg ft Happy Clappers
Temperature - Dibs + MGM Fogo Bootleg vs Sean Paul
We Dem Boyz - DJ Smerk Horns Bootleg ft Wiz Khalifa
More Than Friends - James Hype VIP Mix ft Kelli-Leigh
Disco Dub - PBH + Jack Shizzle
Sizzurp - Endor + Khalifa Cyrus
Rock Wit - Ku De Ta Remix ft Ashanti
Crank Dat vs P.I.M.P - The Stickmen
Sweet Nothing - Craig Knight n Lewis Roper vs Calvin Harris
Better Milkshake - Richie Don vs Kelis vs Jason Reilly
See You Again - Proper Tings
Bring The House - PBH vs Jack Shizzle
Summer 99 - Tchami
De Ting Go - Mista Bibs Edit vs Jay Z vs Roadman Shaq
Outro.