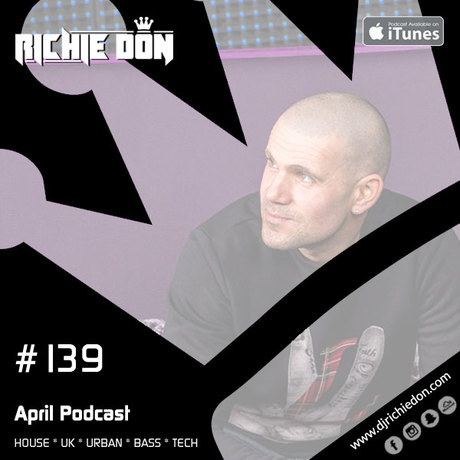 April 2018 | All your favourites of house, bass, urban, UK and this month we add a splash of tech house as requested.
Got an Iphone or Ipad? Download the 'Podcast' app, search 'DJ Richie Don' and subscribe, to receive future episodes automatically from #Itunes. For links and more info visit: https://www.djrichiedon.com - turn it up and enjoy.
Richie Don - Podcast Intro
IDGAF - Country Club Martini Crew Remix ft Dua Lipa
A Deeper Love - Damianito Cola Bootleg ft Aretha Franklin
One Dance - DEAN-E-G Remix ft Drake, Wizkid + Kyla
99 Red Balloons - CID Remix ft Oliver Nelson, Tobtok
Jumanji - Shift K3Y remix ft B Young
My Lover - T Matthias Remix ft Not3s + Mabel
Make A Move On Me - Craig Knight Remix ft Joey Negro
Is It Really Love - Joe Stone + Cr3on
I Know You - Nathan C Remix ft Craig David
Lullaby - Alphalove Remix ft Sigala + Paloma Faith
You Got Me Baby - Ben Rainey x Lee Morrison Remix ft Lushington
Hearts Ain't Gonna Lie - Niko The Kid Remix ft Arlissa + Jonas Blue
Call Me In The Morning - Litek
Look Like Monayyy - Selekio Remix ft Indian Trap + Kreszenzia
> UK * Urban * Party: 36:30
Magenta Riddim - Tall Boys ft DJ Snake
Macarena - Billy The Kit Remix ft Los Del Rio
BaDINGA! - JEKEY Moombahton Remix
Mambo No. 5 - Groove Dealers Twerk Remix ft Lou Bega
Jump Around - Safety First Fester Skank Bootleg vs House Of Pain
Who's That Girl - Stavros Martina ft Eve
What I Wanna - MoStack
Check - Nathan Dawe Remix - Kojo Funds ft RAYE
Mind On It - Yungen ft Jess Glynne
Vroom - Yxng Bane
Freaky Friday - Lil Dicky ft Chris Brown
> BassBox: 54:45
17 - Haus Of Panda Remix vs MK
Rattle - Felguk + Lowderz Remix ft Bingo Players
Jungle Bae - Christian Marchi + Luis Rodriguez Calabria Bootleg
Insomnia - Decay + Relay 2k18 Remix vs Faithless
I Want It That Way - Yoshy Wizer Remix ft Backstreet Boys
1, 2 Step - Anthem Kingz Azukita Bootleg ft Ciara + Missy Elliott
Party Up - Birthdayy Partyy vs GTA Edit - Destructo ft YG
Wonderwall - Chunky Dip Turn It Around Bootleg ft Oasis
Gammy Elbow - DJ Zinc + Chris Lorenzo
Premonition - SBS + Proper Tings Mix vs FooR X Eddie Craig
Eric Goes To Disco - Beltek
Amergency - DJ Zinc
Lick It - Valentino Khan
> House & Tech: 73:00
Reach Out - Perfecto Allstarz + Freejak
Check - Blonde Remix ft Kojo Funds
The Weekend - Pink Panda Remix ft Michael Gray
Right Here, Right Now - CamelPhat Remix ft Fatboy Slim
The Scoop - Myles Club Edit ft Format B
BHAP - Word of Mouth - Metroplane
Whiskey and Cola - Apexape ft Carla Monroe
Cause and Affect - Umek ft GrooveBox
Music Is The Answer - K.K.
Jam Master Jack - Klangkuenstler
Be - Klangkuenstler Remix ft Greco NYC + Rowetta
Outro.