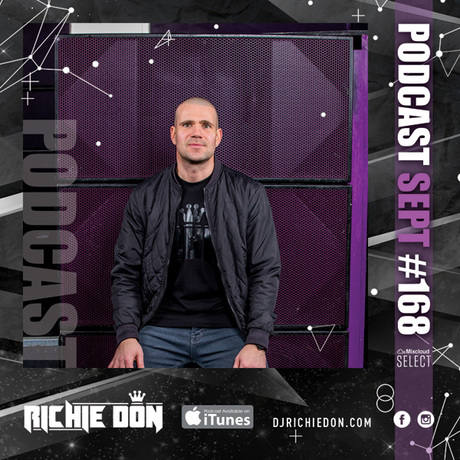 Enjoy September's podcast to kick start your back to school scenario / college / uni or work routine. Stay safe and well wishes to all.
>> House / Chart / Mash Ups @ 00:01:38
>> Hip Hop / RnB / Grime @ 00:58:20
>> UK Garage / Bass / Festival Style @ 01:17:30
We 'Live Stream' on Facebook Youtube and Twitch Fridays & Sundays 6-8pm - do check in if you like the podcast sounds.
Tag us on Instagram: https://www.instagram.com/djrichiedon/ so we can share your stories @djrichiedon.
Subscribe @ iTunes (and Mixcloud @djrichiedon) to stream with ease and automatically receive all future episodes free.
For links to the latest merch, USB keys & more - visit: https://www.djrichiedon.com.
>> House / Chart / Mash Ups @ 00:01:38
Feel My Scrubs - Discosid Mashup ft TLC Vs Weiss
I NEED YOU - Varski x Proper Tings ft Local
Day One - Azello Remix ft Double S & Sticky
Stayin' Alive - San Pacho Remix ft Bee Gees
Smack Ma - Jerome Price
Surfboard - Ibranovski
Mr Brightside - Don Diablo
Head & Heart VIP Mix - Joel Corry ft MNEK
Hollaback Girl - Reynor Remix ft Gwen Stefani
Takeaway - Charlie Lane ft The Chainsmokers & Illenium Lennon Stella
Party Real Good - Aaron North
That Girl - Jerome Price
Fill Me In - Mista Bibs Take Care Mashup ft Craig David x Drake
Tell Me Yeah - Dan Sterry Mashup ft Usher & Ludacris Vs James Hype
Back To Life - Lincoln Baio ft Soul II Soul
Bring 'Em Out - Devochka
Dancing In My Bed - Majestic & Luis Rumorè ft Nuschi
Come Together - Freejak Remix ft Franky Wah
Power of Bass - James Doman ft Armand Van Helden x Herve
How You Feel - Kinetic Minds
Get Down On It - Maloo ft Kool & The Gang
Move My Body - Nelsaan
No Ending - Myles Club Edit ft Alonso Bierg
Imagine - Ryan Arnold VIP Mix
What You Gonna Do - Clik3d ft Taet
MasterBlaster 2020 - DJ Luck & MC Neat ft J.J
Meant To Be - DJ Blighty
Out Of Control - DJ Zinc ft Kudu Blue
Thong Song - DJ OneF Mashup ft Sisqo x Silque
My Love Rain On Me - DJJD & DjSi ft Noizy Neighbourz x Gaga x Arianna
>> Hip Hop / RnB / Grime @ 00:58:20
Hustlin' - D'Maduro Remix Rick Ross
How Do You Want It? - Swarmz, Krept, Konan & Bandokay
Real Life - Burna Boy ft Stormzy
Area Codes - Tall Boys Remix ft Ludacris ft Nate Dogg
Touch It - Anthem Kingz Water Edit ft Busta Rhymes
Crazy In Love - DJ Serg Remix ft Beyonce
Down On Me - Fresco Remix ft Jeremih & 50 Cent
Tap In Remix - Saweetie ft Post Malone, DaBaby & Jack Harlow
Dinner Guest Fine China - Glenn-D Mashup AJ Tracey, MoStack x Chris Brown
Laugh Now Cry Later - DJ Mike D Remix ft Drake ft Lil Durk
Safe To Say - Aitch
L.L.L.L. (Love Life Live Large) - Dizzee Rascal & Chip
Red Card - Frisco ft. Skepta, Jammer, Jme, & Shorty
TIK TOK - Poundz
Woi x I Spy - RAYMOND Mashup ft Digga D x Krept & Konan
>> UK Garage / Bass / Festival Style @ 01:17:30
In Paris 138 Trek - Glenn-D Mashup ft Jay Z & Kanye West x DJ Zinc
Head & Heart All I Do - Glenn-D Mashup Joel Corry & MNEK x Cleptomanics
WAP - John Lock Remix ft Cardi B ft Megan Thee Stallion
Rebels On The Run - Chocolate Puma ft Grace Tither
Hell - Malaa & Koos
No Jumpin' No Good - Dave Bolton vs Destiny's Child Vs Ste Owens
Pump Up The Jam x Back To Funk x Manhattan - G Fire Mashup
Carne - Medium Rare
Love The Way You Move - DLMT ft Sara Diamond
That Porn Sound - PBH & Jack ft H Love
Post Malone Body Pop - Wilki-G Mashup ft Sam Feldt X Disco Fries
Show Me - Corrupt vs Habstrakt.
** Note this podcast contains expicit language.