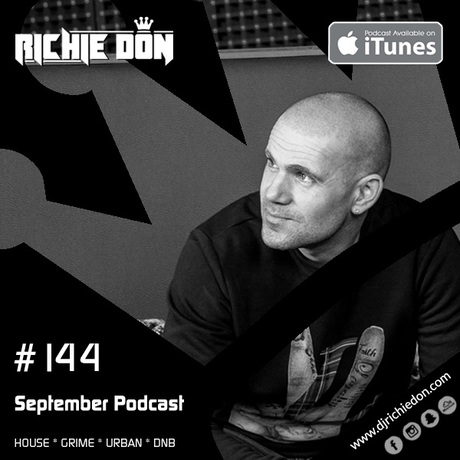 Got an Iphone or Ipad? Download the 'Podcast' app, search 'DJ Richie Don' and subscribe, to receive future episodes automatically from #Itunes. For links, albums, limited edition USB keys, CD's and much more info visit: https://www.djrichiedon.com - turn it up and enjoy.
Podcast Intro:
If You're Over Me - Sebastian Perez Remix ft Years + Years
Pump It Up - Tenova
I Like It - Dj Dark Remix ft Cardi B
In My Feelings - David Dancos Remix ft Drake
My Milkshake - Leftwing + Kody Remix ft Kelis x Freejak
Fake Love - Catfish Remix ft Drake
Light Us Up - PBH + Jack Shizzle Remix ft Matrix + Futurebound
No Brainer - Barry Harris ft Justin Bieber, Chance The Rapper
079ME - Blinkie Remix ft B Young
Something More - Knoxa, Georgia Ku
You've Got The Love Parade - Mike Reevey vs Florence + The Machine
Ill Behaviour - Vibe Killers ft Fatboy Slim
Pump Up The Jam - Bonxo Remix ft Technotronic
Get Get Down - ID REMIX ft Paul Johnson
Be Somebody - Solardo
Love It Like That - Pink Panda ft Nyanda
** Urban **
Yay - Nines, Tiggs Da Author
Gucci Mane - D-Block Europe, Yxng Bane
16 Shots - Stefflon Don
Movie - ADP ft B Young, Kranium + Ebenezer
Taste - Tyga, Offset
6:30 - Geko ft NSG
In My Feellings - DJ Babey Drew ft Drake
Lyca - Swarmz
Feelings (Wifey)- Crazy Cousinz ft Yungen + M.O
Who Am I - Kojo Funds ft Bugzy
Don't Believe - Lethal Bizzle ft Lady Leshurr
Step 20 - Jay Robinson ft Wiley, Jay Robinson
We Know - SafOne ft Mayhem
** Future + Bass **
Freak - Ill Phil Remix ft Sweet Female Attitude
Panther - Format B Remix ft Raumakustik
Jackie Chan - The Stickmen Remix ft Tiesto + Post Malone
Music Sounds Better - Lenny Kiser Remix ft Stardust
Hear That - Gorgon City ft D Double E
On A Level - PBH + Jack Shizzle ft Sash Sings
Whiskey Riddim - Vato Gonzalez ft Sorana
Standing In The Way - The Stickmen Remix ft The Gossip
Hands Up - Neero Remix ft Merk + Kremont
You Plus Me - Charming Horses, James Ford
Ocean - Holy Goof Remix ft Martin Garrix + Khalid
Snakes - Sikdope
Alpha - Jauz
Dollars - DJ Zinc
** DnB **
There For You - Culture Shock
Through The Night - Raveform Bootleg
Outro.