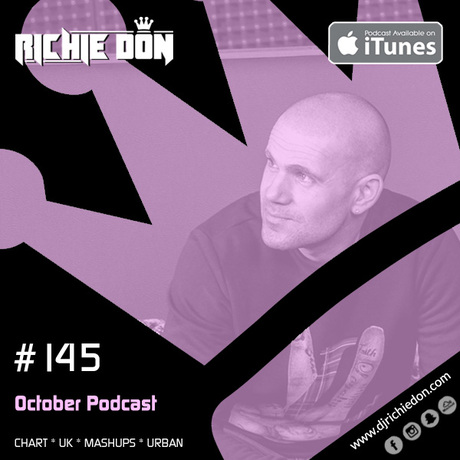 Got an Iphone or Ipad? Download the 'Podcast' app, search 'DJ Richie Don' and subscribe, to receive future episodes automatically from #Itunes. For links, albums, limited edition USB keys, CD's and much more info visit: https://www.djrichiedon.com - turn it up and enjoy.
> House | Chart | Top 40:
Back n Forth - MK x Jonas Blue x Becky Hill
So Real (Warriors) - Too Many Zooz vs KDA + Jess Glynne
Promises - TRP Remix ft Calvin Harris + Sam Smith
One Shot - Alex Ross Remix ft Mabel
Cellphone - Tru Fonix Remix ft The Count of Monte Cristal
Finally - ITK Remix ft CeCe Peniston
Solo - Leandro Da Silva Remix ft Clean Bandit
Don't Stop 'Til You Get Enough - Safety First ft MJ
Just Got Paid - Sigala ft Ella Eyre + French Montana.
> RnB | UK | Rap | Grime:
LO(V/S)ER - AJ Tracey
Sicko Mode - Travis Scott
Nonstop - Drake
No Stylist - French Montana + Drake
Backin' It Up - Pardison Fontaine ft Cardi B
Money Right - Dizzee Rascal ft Skepta
Bebey - Theophilus London + Giggs
Glory - Ebenezer
Fall - Eminem
Taste - Mista Bibs B#tch Please Remix ft Tyga
Oh My - Dappy ft Ay Em
Energy - Skepta + Wizkid
Ay Caramba - Fredo, Young T + Bugsey
I Love It - Kanye West + Lil Pump
My Girl - Chip + Red Rat
Sugar Cane - Shakka.
> Bass | Mash Ups | Tech | Future Anthems:
Jook Gal - Kidd Spin Jook It Bootleg ft Elephant Man
I Like It Mash Up - Cardi B x Jay Z & Kanye West
Sweet Dreams 17 Mash Up - Calvo + Eurthymics Vs MK
Young - Purple Pelican Remix ft Jaded
Born Slippy VS In The House Mash Up - Underworld x FPB x OneF
Liquid Vs Rehab Mash Up - Amy Winehouse X Liquid X Brohug
Apache Wonderwall Mash Up - SHG x Sammy Porter x Oasis
Mrs Patterson - K & K
Ayla - PBH + Jack Shizzle
Crazy In My Club - Mash Up - Beyonce VS TT Project + Dave Bolton
Raveolution - Wh0
Runway - Duke Dumont
Satisfaction - Dunisco Remix ft Benny Benassi
Push The Feeling On - Alex Guesta + Nicola Fasano Tribal Mix
Put Your Hands Up - DNF + David Puentez
I Love It - KSWRT Remix ft Kanye West + Lil Pump
Bad n Boujee - Phon Losing It Bootleg ft Migos + Lil Uzi Vert
Can't Dance - R3WIRE Remix ft Kelli-Leigh + Art Bastian
Don't Leave Me Alone - R3hab Remix ft David Guetta Anne-Marie
Bassride - Afrojack
You Take Me So Far - Bakes
One Life - Southchurch
Sometimes The Going Gets A Little Tough - Finn
Outro.
Hit the share button & connect on Instagram at @djrichiedon. Thank you for listening. Note: This Podcast has explicit language!