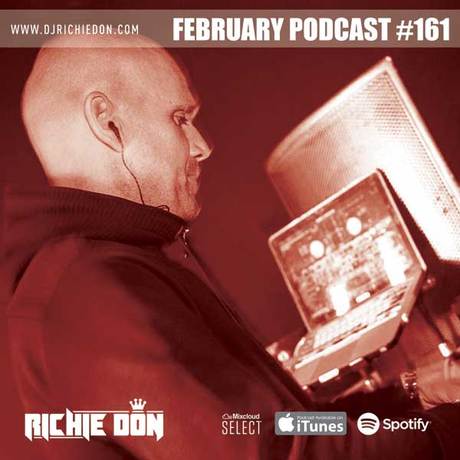 Well you made it through January congrats! To get you motivated for Feb we have loads of energy as expected, some urban hot hits and lashings of bass and drums for the gym regulars! Add us up on Instagram to connect super easy https://www.instagram.com/djrichiedon/ so we can share your stories when you tag us @djrichiedon enjoy!
>> House / Mash Ups / Chart @ 00:01:40
>> Urban & Exclusives @ 00:55:05
>> Bass Box & Drums @ 01:14:25
Subscribe @ Spotify, iTunes (and Mixcloud @djrichiedon) to stream with ease and automatically receive all future episodes.
For links to all socials, streaming platforms, news, albums, limited edition USB keys, latest CD releases and more - visit: https://www.djrichiedon.com.
>> House / Mash Ups / Chart @ 00:01:40
Feels Like Love - MOTi & Laura White
Pay For Bonkers Devotion Thrills - Danny B ft Dizzee Rascal Vs Zero Vs Nomad
Zum Zum Wow - So Acclaimed Vs Post Malone Vs Redlight
100% Alright - Discosid + Matt B Mashup Vs Duke Dumont Vs Mark Knight
How Deep Is Your Red Face - DJ Jamie C Vs Freejak Vs Calvin Harris
G.O.A.T Get Down - R3WIRE Vs Oliver Heldens x Mesto x Paul Johnson
All My People In The House - Claude VonStroke
Pump It Up - Tenova
Fury's Laughter - Tube & Berger Remix ft S.A.M.
The Box - Anthem Kingz Low Bootleg Vs Roddy Ricch
The Next Episode - Reynor Remix Vs Dr Dre ft Snoop Dogg
Crank That Calabria - Dazwell Vs Enur Vs Soulja Boy
Ride It Pony Power - Christof Vs Regard Vs Ginuwine Vs James Hype
No More Scrub Life - Mark Farge Vs Torren Foot Vs TLC
Let Me Take You There - Sondr Remix ft Max Styler + Laura White
Ladbroke Grove Riddim - DJ Triple J Vs Aj Tracey Vs Foreign Beggars
The Box - James Hype Remix ft Roddy Ricch
Dont Start Now - Tommie Sunshine & Bitch Be Cool Remix vs Joe Reece Vs Dua Lipa
Mambo Italiano - So Acclaimed Vs Shaft x Starjack ft Saxo x Trompeta
The One - Prospa
Therapy - Duke Dumont
Mr. Vain - Black Caviar
A Little Bit Of Ecstasy - Black Caviar
Yummy - Mismatch + Jose Knight Mashup ft Justin Bieber x Tobtok, Simon Field
Player - 2019 Disco Rework ft Mooqee + Beatvandals
I'm In Love - Danny Dove ft The Flirtations
Audacity Bambambam - Adam B Stormy Vs DJ Zinc
Freed From Desire - Beave's Ibiza 2020 Mix Vs Gala
Congratulations - Vip Mix Don Diablo ft Brando
100 Percent Pure Love - Lincoln Baio Bootleg ft Crystal Waters
Lonely - Joel Corry

>> Urban & Exclusives @ 00:55:05
Gangstas Rockstar - Joe Reece Vs Coolio Vs Nickelback Vs Post Malone
B.I.T.C.H. - Megan Thee Stallion
Pee Pee - M Huncho
Godzilla - Eminem ft Juice WRLD
Holy Grail - Kid Ink
Top Striker - Blasé + Luxo
No Diet x That's Not Me - DJ Piddy Vs Digga D Vs Skepta
Trust - Noise Cans Remix Vs Buju Banton
Frontline - Piddy Re-drum ft PA Salieu
Candy Shop G Love - Glenn-D Mashup Vs 50 Cent x Krept & Konan
High Fashion - MarkCutz ft Roddy Ricch + Mustard
Wildin - YB Origenal
>> Bass Box & Drums 01:14:25
Satisfaction - Freqncy Remix ft Benni Benassi
Nobody Likes - Myles Club Edit ft Douth
C'mon N' Ride It - Jablonski & Tejeda Too Much Bootleg ft Quad City DJ's
LSD - Jay Robinson
Dimitri How Deep Is Your Love - R3WIRE Vs Adrianou x Calvin Harris
Swerve - Richard Vission ft Projekt X + Marty Obey
All Night - Manuel Lauren
Funky Bass x Hit The Road - R3WIRE ft BounceMakers, Ayin, Fader X, Throttle & Cazztek
Show me Love - Phibes Remix
Soul Shake - 1991 Remix My Nu Leng & Flava D
So Excited - Phace
Good to Me - Friction
** Note: This episode contains explicit language.