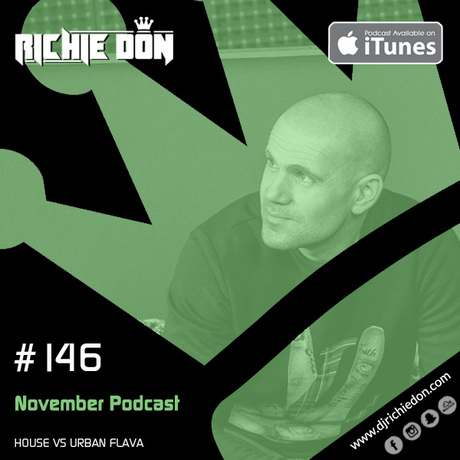 Got an Iphone or Ipad? Download the 'Podcast' app, search 'DJ Richie Don' and hit subscribe, to receive future episodes automatically from #Itunes.
For links to all socials, streaming platforms, news, albums, limited edition USB keys, CD's and much more info;
visit: https://www.djrichiedon.com - turn it up and enjoy.
This November is the first in our Vs series! Taking two genres and battling them against each other. You decide the winner - @djrichiedon.
>> House
Jenny From The Block - A4 Block Bootleg ft Jennifer Lopez
Badass - MSC Remix ft Born Dirty + Anna Lunoe
Sweet But Psycho - Paul Morrell Remix ft Ava Max
Don't Go - Smokin' Jack Hill Remix ft Julie McDermott
Promises - Kap Slap Remix ft Calvin Harris + Sam Smith
Grapevine - Tiesto
Big Booty - Breaking Beattz
Heard It All Before - Low Steppa
Talking To Myself - Christian Nielsen
Movie - TCTS Remix ft ADP
Better - DubRocca Remix ft Khalid
I Wish You Were Here - Wideboys Instrumental ft HRVY
We Get Crunk - Malaa
Pynk - King Arthur Remix ft Janelle Monáe
Walking on the Sunshine - Crossover X Somn3um
Rotate - MistaJam
Another Chance - Don Diablo Vs Big Pineapple
Accelerator - Solardo + CamelPhat
Hang Up Your Hangups - Camelphat ft Paul Woolford
Got No Love - Sezwez + Maddy Carty
Homerton B - T Matthias Remix ft Unknown T
Just Got Paid - DEAN E G Remix ft Sigala
My Feelings - Madison Mars
You Don't Love Me - Harry Shadow Remix + Squidgy Black
Dumb - M-22 Remix ft Imani Williams
Far Out - Freejak Remix vs Sonz Of A Loop Da Loop Era
No Drama - Craig David + James Hype
Dont Gas Me - Dizzee Rascal.
VS:
>> Urban Flava - 62:30
Money - Tall Boys ft Cardi B
Funky Friday - Dave ft Fredo
How Dat Sound - Trey Songz
No Stylist - French Montana ft Drake
Kinder Surprise - Lotto Boyzz + ADP
All We Know - Dappy
Homerton B - Unknown T
STOOPID (Purple Lamborghini Bootleg) ft 6ix9ine
ZeZe Freestyle - Mist
Uproar - Lil Wayne
Pumpy - Da Beatfreakz ft AJ x Deno, Swarmz and Cadet
CRB Check - Chip ft Not3s
Lessons - Lethal Bizzle
Chalice - Donae'o ft Belly
Bad In Real Life - Fazer
All The Way Up vs Mi Gente - Fat Joe vs J Balvin
Gimme The Light - Safety First Remix ft Sean Paul
Get Right - DJ Serg + DJ Stressy Remix ft Jennifer Lopez
Gasolina - Fiyan Suban Las Manos Bootleg ft Daddy Yankee
Front Left - Benny Page Ft Eva Lazarus
Outro.
Hit the share button & connect on Instagram at @djrichiedon to let us know your chosen winner! December's podcast will be based on your votes! Thanks for listening.
Note: This Podcast contains explicit language!