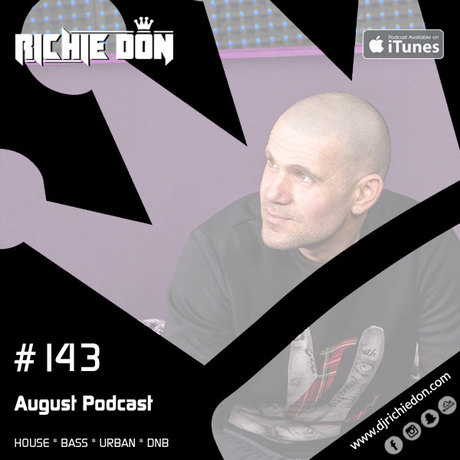 Got an Iphone or Ipad? Download the 'Podcast' app, search 'DJ Richie Don' and subscribe to receive future episodes automatically from #Itunes. For links, mixtapes, limited edition USB keys, latest CD's and much more, visit: https://www.djrichiedon.com - turn it up and enjoy.
Podcast Intro
Raise A Chunky Disco's Fire - Joe Reece ft Ryan Blyth Vs Disclosure + Format B
Flowers - Freejak Remix ft Sweet Female Attitude
London - DJ Q Remix ft AJ x Deno
Raise a Glass - Ryan Blyth + Bb Diamond
Get Low - Tough Love ft The Melody Men
Freaky Friday - Chunky Dip Edit ft Chris Brown
Rum Woman - DJ Zinc ft FooR x BARLI
More Than Gash Friends - House + Gash Mash Up ft James Hype
Chunky - Battle VIP - Joe Reece Edit ft Format B Vs Riddim Commision
The Rockafeller Skank - Melo Kids 2018 Remix ft Fatboy Slim
One Kiss - Anthem Kingz vs R3hab ft Calvin Harris + Dua Lupa
New Elephant Rules - Ten Walls + Freejak Vs Dua Lipa
By The Way - BeatBreaker KIDS IN LOVE ft RHCP x Don Diablo
Tag Team To Be - Lee Morrison ft Run DMC
Seven Nation Gammy Elbow - PBH + Jack Shizzle Vs Zinc + Chris Lorenzo
Samba De Janeiro Vs Lighter - Richie Don Vs Bellini x FineArt
Out Of Space - Scott Forshaw & Greg Stainer ft The Prodigy
Havana - WeDamnz Edit ft Camila Cabello
Together - Chris Lorenzo
My Milkshake 2018 - Kelis + Freejak
The Power Gets Chunky - Richie Don Edit Vs James Hype
Only You - Falseface
Harder Better Faster Stronger - J4CK W3ST Digital Enemy ft Daft Punk
Redoom 17 - BNM Bootleg MK Vs Low Steppa
My Boo - Alternative Kasual Remix ft Ghost Town DJs
** Urban **
Gyal You A Party Animal - Charly Black
Feelings - Crazy Cousinz ft Yungen + M.O
London - AJ x Deno ft EO
Best Life - Hardy Caprio ft One Acen
In My Feelings - Drake
** DnB **
Tour - Macky Gee
Angles - Dj Guv
Space Hopper - Macky Gee X DJ Phantasy
Intoxicated - DJ Fresh Remix ft Martin Solveig, GTA
Jump Up - Dj Guv
Outro.