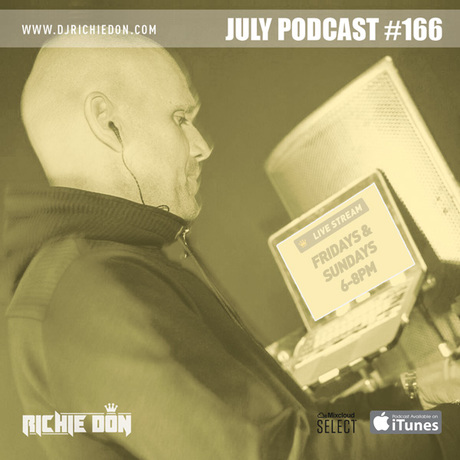 July's podcast is a weapon! Fly through the month with this in your ears.
Every Friday & Sunday 6-8pm we are LIVE on Facebook Youtube and Twitch so do check in if you like the podcast sounds.
Add us up on Instagram https://www.instagram.com/djrichiedon/ so we can share your stories when you tag us @djrichiedon.
>> House / Chart / Mash Ups @ 00:01:38
>> Hip Hop / RnB @ 00:36:36
>> Club Style / Future Bangers / Energy @ 00:50:50
>> Drum & Bass @ 01:26:30
Subscribe @ iTunes (and Mixcloud @djrichiedon) to stream with ease and automatically receive all future episodes free.
For links to all socials, streaming platforms, news, albums, limited edition USB keys, latest CD releases and more - visit: https://www.djrichiedon.com.
>> House / Chart / Mash Ups @ 00:01:38
Tainted Love - BK298 Remix ft Susie Vanner
Come Together - Franky Wah
Again - Redlight Remix ft Clipz, Ms Banks Ms Dynamite & Jaykae
Don't Talk - Malaa
Back To Funk x Alright - Rhvthmz Mashup Electricity x Renegade Master
Whoomp! - Superlover
Something In Your Eyes - Rick Live ft Shelley Nelson
Summerjam 2020 - Renomty, Gregoir Cruz + The Underdog Project
Can't Hold Us - Kealen Remix ft Macklemore, Ryan Lewis + Ray Dalton
Get Ready For Too Many Man - DJJD Mashup vs 2 Unlimited x Boy Better Know
Living Young - Chris Decay + Re-Lay
Fine On Fire - DTM Mashup ft Mary J Blige x Wideboys
Lift Your Energy - Eden Prince
Hypnotize - Used Disco + Earth n Days
Fly Bi Freak Like Me - Glenn-D Mashup vs Teebone, MC Kie, Sparks x FUBU & Tobtok
Papa's Got A New Bag - Harry Tremlett Remix vs James Brown
Get Ready To Pump It Up - DJ Triple J Mashup vs Danzel Vs 2 Unlimited & Colin Jay
Dirty World Hold On - DJ OneF vs Bob Sinclar x Nigel Dope x Akhmetoff
California Dreamin' - Lincoln Baio vs Keanu Silva vs The Mamas + The Papas
The Fire - Armand Van Helden + Kideko.
>> Hip Hop / RnB @ 00:36:36
Ride Or Scrubs - DTM Mashup vs TLC x Megan Thee Stallion
Like Them - Ben Tiger London Mashup vs Aitch x AJ Deno
Tap In - Greg Lassierra Remix ft Saweetie
Stronger - Jurri & Tony & Mattia Remix vs Kanye West
Rover x Drogba - DJ Denz Mashup vs S1mba x Afro B ft DTG
Numb Encore - Enaye Moombahton Anthem 2020 ft Linkin Park + Jay Z
Don't Rush Remix - Young T, Bugsey + DaBaby
That's My B#tch - DJ Bizzon ft City Girls
Girls In The Hood - DJ Serg Sniper ft Megan Thee Stallion
Bombastic - Kevin D + Stavros Martina ft Shaggy
Catch Me Outside - B Young.
>> Club Style / Future Bangers / Energy @ 00:50:50
Music Is The Answer - TRP
Felt Cute - Le Cheval
Right Now - Joe Reece Mashup vs Akon + Joe Stone
Leave The World Behind x Nothing Else - Switch Disco vs SHM X Joe Stone
Wannabe Vs Superstar - TMU Mashup vs Spice Girls Vs Joe Stone
You Little Drum & Bass Father - DJ Richie Mashup vs Fisher Vs Devilman
Honey - Eats Everything
West Ten - AJ Tracey + Mabel
Smack That - DJ OneF Bootleg vs Akon x Henry Fong x ETX + Fresco
Dude - Major Key Remix ft Beenie Man
Passion's Not Right But It's Okay - Dave Bolton ft Whitney Houston Vs Gat Decor
Cola - DJ OneF Re-Edit vs CamelPhat + Elderbrook x Edo + Vasiliy Arefiev
Blinding Lights - Chunky Dip + Jesse James More Than You Know Edit ft The Weeknd
Fresh Celebrity - DJJD Mashup vs FooR x Twista
Good Time - Zookëper + Reebs
Dinner Date - Freejak Remix ft AJ Tracey + MoStack
I Remember - Kidd Spin You Used To Hold Me Edit vs Chris Lake ft Xaviera Gold
Born Again - Tchami
Heads Will Roll - Kubi Remix ft Yeah Yeah Yeahs
Stand Up - AC Slater
Rockafeller On My Mind - Dave Bolton vs Fatboy Slim Vs Diplo x Sidepiece Vs Run DMC
Whoomp There It Is - DJ Smerk Samir's Theme Edit vs Tag Team
My Mind - Cazztek + MASTERIA
Gold On My Crown - BROHUG ft Born I
Turnin' Me On - Spryte Body Pop Edit ft Nina Sky.
>> Drum & Bass @ 01:26:30
Seen It All Before - Friction Remix ft Everyone You Know
Saviour - Dimension + Sharlene Hector
Gammy Elbow Dust - DJJD Mashup ft DJ Zinc x Chris Lorenzo Vs DJ Fresh
Original Nutta DUBPLATE - Shy FX + UK Apache.