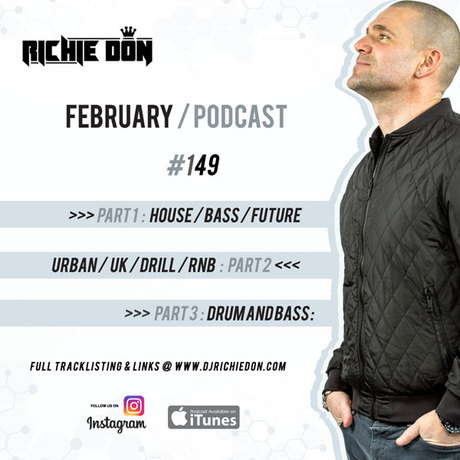 Got an Iphone or Ipad? Download the 'Podcast' app, search 'DJ Richie Don' and subscribe, to receive all future episodes automatically from #Itunes.
For links to all socials, streaming platforms, news, albums, limited edition USB keys, CD's and much more info visit: https://www.djrichiedon.com.
Note: Podcasts are now only streamed 'Live' on Instagram, so make sure you add us up there to watch to interact in real time an get your shouts immortalised. Turn it up and enjoy.
ADD >>: https://www.instagram.com/djrichiedon.
>> POWER HOUSE AND FUTURE BASS:
La La La - Naughty Boy ft Sam Smith vs Steff Da Campo
Hustlin - Rick Ross Bootleg
Bad & Boujee Frankenstein Mix - Kerry Glass, Migos, Riggi + Piros + Tujamo
Grapevine - Tujamo Remix vs Tiesto
Sicko Mode - ANGELZ Remix ft Travis Scott, Juicy J, Swae Lee + Drake
Low Boom - Tiesto + Sevenn vs Flo-Rida
In My Feelings - Jay Hardway + Mesto vs Drake
Yo DJ Bounce - KYANU
Freaky Friday - James Bluck Remix ft Lil Dicky + Chris Brown
Magenta Riddim - Lumberjack Remix vs DJ Snake
Mundian To Bach Ke - Alex Guesta Remix ft Panjabi MC
Renegade Master - Dimitri Vegas + Like Mike vs Jamis + MAD M.A.C
Hot Drum Renegade - Joyryde
Pump Up The Jam VS Get Down - Technotronic vs Retrovision
Big Riddim - AC Slater ft Jamakabi
I Love It - BROHUG Remix ft Kanye West + Lil Pump
Watch Out For Jook - DJ Scene vs Major Lazer + Tujamo
Look Alive - Cheyenne Giles Remix ft BlocBoy JB + Drake
Sensei - Lewis Remix ft ZieZie
FEFE - Cheyenne Giles Remix ft 6IX9INE + Nicki Minaj
Bodak Yellow - Cardi B vs Matisse + Sadko
Seven Nation Fun - Holl + Rush Mashup vs Kaskade + Brohug
Move Shake Drop - Don Diablo ft Alex Clare vs Laz
Beautiful Girl - Sean Kingston vs Curbi, Mesto + Fox Stevenson
Shape Of You - Ed Sheeran vs Wax Motif + Chace
Bad Boy For Life - Freejak Remix ft P. Diddy
Giant - Wayne Scott Fox Remix vs Calvin Harris + Rag'n'Bone Man
>> URBAN FLAVA:
Wow - Nathan C Remix ft Post Malone into original
Undecided - Kevin D Remix ft Chris Brown
Bally - Swarmz ft Tion Wayne
Big Bank - YG ft 2 Chainz, Big Sean + Nicki Minaj
Girls Have Fun - Tyga, G-Eazy + Rich The Kid
Juice - B Young
Twerk - City Girls ft Cardi B
Get It On The Floor - KIDY Remix vs DMX
Pretty Girl - Stefflon Don ft Tiggs Da Author
Hot - DJ BrainDead + Dutty Nation Remix
Living Gravy - Young T + Bugsey ft Not3s
18HUNNA - Headie One ft Dave
Gun Lean - RUSS
>> DRUM AND BASS:
If You're Not Going To Love Me - James Newman vs DC Breaks
Getaway - Koven Remix - Tritonal
On The Wheels - Loadstar
Get Physical - Culture Shock
** Note: This episode contains explicit language.