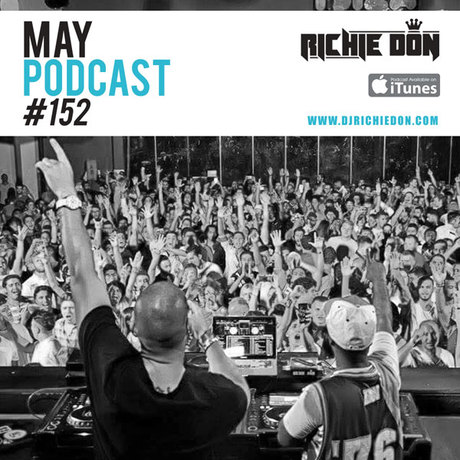 The mighty month of May's magical musical manifesto.
Got an Iphone? Download the Podcast app, search 'DJ Richie Don' and subscribe, to receive any episodes automatically from #Itunes.
For links to all socials, streaming platforms, news, albums, limited edition USB keys, latest CD releases, DMC updates, Mixcloud, Podomatic and more - visit: https://www.djrichiedon.com.
Note: These podcasts are streamed 'Live' on Instagram, so add us to watch in real time: >>: https://www.instagram.com/djrichiedon/ enjoy.
>> 1. House / Chart Remixes:
Watch Me - Zookëeper
Sicko Mode - James Hype Mix ft Travis Scott + Drake
Ballie - Idris Elba vs Kah-Lo
I Feel It - Leftwing + Kody
Luv 4 Luv - Ryan Blyth ft Robin S
Maghic - Agua Sin Gas + Antoine Clamaran
Soul Sacrifice - Dombresky
Feel Free - Stino
Roses - SH8K Remix ft Outkast
Please Me - Trayze My Boo Blend ft Cardi B + Bruno Mars
The Lover That You Are - TRP Remix ft Pulse + Antoinette Roberson
S.O.S - Finlay C Remix ft Avicii + Aloe Blacc
Boasty - Dillon James ft Wiley x Stefflon Don x Sean Paul x Idris
BABY - Freejak Remix ft Giggs
Give You - Jamie Lewis House Cut ft Djaimin
>> 30:00 Urban:
Medicine - Jennifer Lopez ft French Montana
Sex In The Morning - Lena ft Ramz
Not My Dons - Fredo ft Lacrum + 3Robi
My Gang - J-Fresh ft OFFCOURSE + Predz UK
100 Thousand - Ayo Beatz ft Wavy Boy Smith
Vossi Bop - Stormzy
The Party's Over Here - Donae'O
Don Walk - Rymez ft Stefflon Don
Splashin - Rich The Kid vs Mark Morrison
Freaky Bootleg - Tory Lanez ft Usher
Lean Back - Terror Squad ft Fat Joe + Remy
Hold Yuh - Dennis Blaze ReWork ft Gyptian
Light It Up - Marshmello, Tyga + Chris Brown
Goddamn - Tyga
Disaster - Dave ft J Hus
Location - Dave ft Burna Boy
Different Strokes - MIST ft Lotto Ash
WIN - Jay Rock
Your Mrs - JAY1
Your Mrs vs iSpy - JAY1 x Kyle
Keisha n Becky Remix - RUSS, Tion Wayne, Jay1, Aitch, Swarmz + Kav'o
>> 60:00 Bass n Drums:
Pioneer - Ryuken ft Maddy Carty
Losing it - Richie Don Frankenstein Edit ft R3hab vs Fisher vs Kanye
Milkshake - MERKEN + Royale Remix ft Kelis
303 - Anna Lunoe
Can't Stand It - Andreas One
Game Of Titanium Thrones - Discosid Mashup vs PBH + JS Vs Guetta
Feel It - Loopers
Echo - Seth Hills + Crime Zcene
Taste Devotion - Tyga vs Nomad vs Kastra
Do It Again - Steve Aoki + Alok
Don't Let The Bass Get Ya - Cazztek
Woo Riddim - Sam Supplier
Born Slippy - DJ Sanchez Remix vs Underworld
What Is It - Kideko
All For You - Wilkinson ft Karen Harding
Warn Dem - Benny Page ft Doktor
Something New - DJ Zinc.
** Note: This episode contains explicit language.