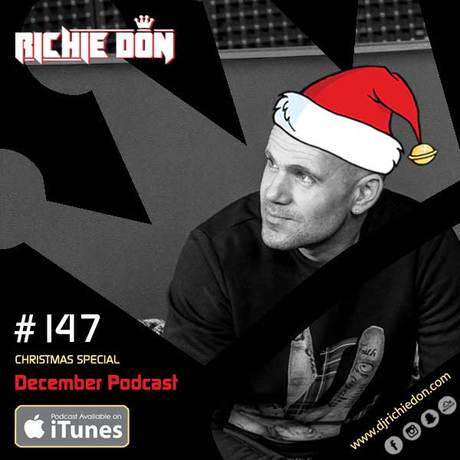 An incredible end to another epic year! December's podcast features the best in House, Deep, Tech and Future, Bass, Urban Flava, Drum and Bass and of course some Christmas jams to get you in the festive spirit. Have a great Xmas, and happy new year, thank you for your support this year!
Got an Iphone or Ipad? Download the 'Podcast' app, search 'DJ Richie Don' and subscribe, to receive future episodes automatically from #Itunes. For links to all socials, streaming platforms, news, albums, limited edition USB keys, CD's and much more info visit: https://www.djrichiedon.com - turn it up and enjoy.
>> House | Chart | Top 40:
This Time - High N Wild
Seek Bromance - Tall Boys vs Joe Stone vs Tim Berg
Homerton B - James Hype Remix ft Unknown T
The Green - KC Lights Remix ft Mike Mago
Anything I Do - CLiQ ft Ms Banks + Alika
Bump N Roll - DJ Drew vs Bingo Players + Oomloud
Congratulations Bootleg - Post Malone
Survive - Don Diablo ft Emeli Sands + Gucci Mane
Satisfied - Shift K3Y Remix ft Galantis + MAX
Wannabe - FREAK ON Remix ft Spice Girls
Get Get Down - Lukas Remix ft Paul Johnson
Happier - REESE Remix - Marshmello + Bastille
Hot In Here - Beave + Pearse Dunne Remix ft Nelly
Never Enough (Terrace Dub) - Gorgon City + Chenai
Music Is The Answer - Kasual Remix ft Danny Tenaglia
Fever - James Hype Remix ft Vybz Kartel
Give It All Up - Dave Winnel Remix ft Angger Dimas
Let You Love Me - James Hype Remix ft Rita Ora
Guess The Rest - Jameson
Losing It - EPX Who Bootleg vs Fisher
No Funkin Pulse - Mr Warnin
Boom - Destructo ft Problem
All The Way Up - Beave Remix ft Fat Joe + Remy Ma
>> Urban:
KIKA - DJ Smerk vs 6ix9ine ft Tory Lanez
Friends - Gyal You A Party Animal Blend vs Marshmello
Happier - DJ Scene Rock Your Body Bootleg ft Marshmello
Bump, Bump, Bump - Tomcio Remix ft B2K + Diddy
Twerk Remix - Tall Boys vs City Girls + Cardi B
BMT - Fredo
P.I.M.P vs ZeZe - DJames vs 50 Cent
Tick Tock - EO
My Ye Is Different - OSH
Girl On Fire - Stavros Martina + Kevin D ft Alicia Keys
Baby Boy - Richastic Remix ft Beyonce + Sean Paul
Where The Ladies At - Kris Kross vs Crooklyn Clan
Wake Up - Tee Grizzley ft Chance The Rapper
Doing It - AJ Tracey
Homerton B - Mista Bibs vs Unknown T
All Of The Lights Sicko Mode - Kanye + Travis + Drake
Talk To Me Remix - Tory Lanez + Rich The Kid + Lil Wayne
>> PowerHouse:
Le Freak - Oliver Heldens Remix vs CHIC
Electricity - Lodato Bootleg vs Silk City + Dua Lipa
Flex - Fedde Le Grand, Funk Machine ft General Levy
Bohemian Rhapsody - Moska Remix ft Queen
I Love It - James Hype Remix vs Kanye West + Lil Pump
Pasilda - Melé + Shovell
>> Bassline:
Where's Your Head At - Usual Suspect vs Basement Jaxx
Gully - My Nu Leng vs Holy Goof ft Takura
Aaron's Theme - DJ Scene vs Grandtheft
Jump - Jaguar Skills + Wheeto n Scrufizzer
>> Drum and Bass:
Buss a Likkle Shape - Benny Page + Sweetie Irie
Voodoo People - Phibes Remix ft The Prodigy
>> Xmas Jams - Happy Christmas
All I Want For Christmas Is You - Eastern Bloc ft Mariah Carey
Mariah's Xmas Gash - Tronald Dumps
Barbra Christmas - Duck Sauce Vs The Loose Cannons
Let It Snow - Eddie Craig Remix vs Dean Martin.
Note: This episode contains explicit language.