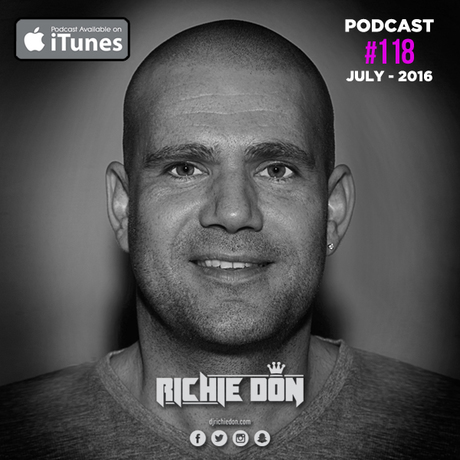 DJ Richie Don – House, Hip Hop, RnB, Old Skool and Bass Podcast #118 – July 2016.
Join July's Podcast as we present, the very best and latest in House, Hip Hop and RnB. We take a trip down memory lane, for 'Retro Record Of The Month' and we 'Open The Bass Box' for the finale. Turn it up and remember, 'sharing is caring - liking is loving' - Enjoy.
NEW CD OUT NOW: Sounds of Summer Vol 5 – The Limited Bass Edition: https://www.djrichiedon.com or click here.
HOUSE:
Richie Don Podcast #118 Intro
Freaky With U - White N3rd
Masterblaster - Bassic Remix - DJ Luck & MC Neat ft JJ
Fu-Gee-La - Funky Truckerz & WareHouse3k Remix - Fugees
It's Like That - The Stickmen Remix ft Run DMC
So Much Love - Muzzaik & Stadiumx
Move Your Feet - Erick Decks & Jay Frog ft Junior Senior
Say My Name - Dean-E-G ft Destiny's Child
Lose My Breath - Ku De Ta ft Destiny's Child
Let You Go - Audio Phunk
Don't Be So Shy - Patrick Hagenaar ft Imany
Free From Desire - Bootleg
Too Good - PeteDown Turnin' Me On Blend ft Drake n Rihanna
Is This Love - Bob Marley & The Wailers
Girls Like - Tinie Tempah ft Zara Larsson
HIP HOP / RNB:
The Boogie - Outasight
How Gee - Marioh Barh Moombahton Remix ft Black Machine
The Way We Do This - Ape Drums ft Major Lazer & Busy Signal
Gasolina - Benedetto Moombahton Remix ft Daddy Yankee
The Boy Is Mine - SMASHA Remix ft Brandy & Monica
Baby Boy - DJ Phresh Remix ft Beyonce ft Sean Paul
For Free - DJ Khaled ft Drake
Don't Hurt Me - DJ Mustard ft Nicki Minaj & Jeremih
Damn Good Time - Candice Boyd ft. French Montana
Don't Mind - Kent Jones
Gold - Kiiara
I Got You - Shaggy ft Jovi Rockwell
RETRO RECORD OF THE MONTH:
Where Love Lives - Alison Limerick
FADE - Solu Music
Finally - eSQUIRE bootleg
OPEN THE BASS BOX:
Hype - Dizzee Rascal & Calvin Harris
No Money - DJ Nelson ft Galantis
Do It Right - Martin Solveig ft Tkay Maidza
Give Me Your Love - Cedric Gervais ft Sigala ft John Newman & Nile Rodgers
Go Back - Atica
Punish My Love - Delta Heavy
Outro
Got an Iphone, Ipod or Ipad? Download the 'Podcast' app - search 'DJ Richie Don' and subscribe to receive future episodes automatically for free.
WATCH THE FACEBOOK LIVE SHOW – EVERY SUNDAY 9pm – Search DJ Richie Don
> NEW FM RADIO SHOW – Funky SX 103.7fm - Thursdays 19.00 – 21.00 <