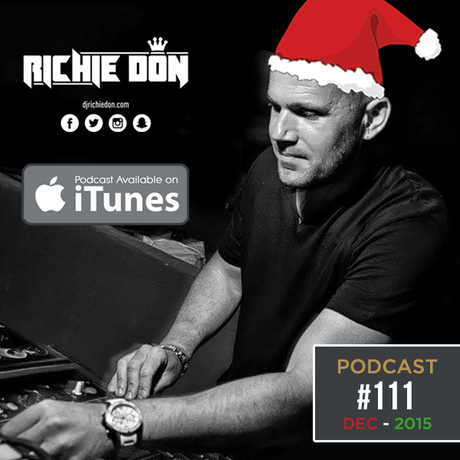 DJ Richie Don – House . Bass . Grime . Hip Hop & Christmas Podcast #111. December 2015. The Christmas & New Year Special!
This MP3 is 128kbps. Perfect to download for mp3 player, SD card, CD or USB key.
Got an Iphone, Ipod or Ipad? Then download the 'Podcast' app, search 'DJ Richie Don' and subscribe to automatically receive future episodes free.
Links: www.djrichiedon.com | FB: /djrichiedon | T: @djrichiedon | IG: djrichiedon

House / Bass / Grime / Future & Christmas:
Podcast 111 Intro
Xmas - HydraDux
Merry F@ckin Christmas - Show and Prove
All I Want For Xmas is Q
The Hills - Nikos Kalogerias Remix - The Weeknd
Sorry - Wide Awake Tropical Remix - Justin Bieber
What You Need Is Me - Tough Love ft Nastaly
Hello - Okan Remix - Adele
Redemption - Jack Beats Remix - Sigma & Diztorion ft Jacob Banks
On My Mind - MK Remix - Ellie Goulding
Don't Give Up On Love - James Hype Remix - Blinkie
I See you Baby - Groove Armada and Jay Faded
BURNITUP! - DJ Mike D ft Janet Jackson and Missy Elliott
You Don't Know - Bonkaz
Garage Skank - Kano
Dude - Lethal Bizzle ft Stormzy
Shut Up - FooR Remix ft Stormzy
Big Rings - Drake and Future
My Girlfriend - T-Wayne
Light It Up - Major Lazer ft Nyla and Fuse ODG
Barbra Christmas - Duck Sauce Vs The Loose Cannons
You Got The Love - Candi Staton ft Layout
In2 - Kokiri Remix - WSTRN
Jumpman - James Hype ft Drake & Future
Right Now - Senor Roar
Violet Nights - Vato Gonzalez and Mucky
Hotline Bling - James Hype Remix ft Drake
Higher Place - DJ Fresh ft Dimitri Vegas Like Mike ft Ne-Yo
Hold On - Quiet Disorder Remix - Simon Field
Animals Have A Merry Xmas - SandoRamiX ft Martin Garrix
Outro
LATEST CD – Sounds of Summer – Vol 3. Get ALL 3 copies, 1,2,and 3 sent to your doorstep in time for Christmas - order here: >> http://goo.gl/uShJ59
WATCH THE NEXT LIVE PODCAST LIVE – JANUARY 5th 2016! - 22.00GMT
Links:
T: @djrichiedon
W: www.djrichiedon.com
YT: www.youtube.com/richiedon
FB: www.facebook.com/djrichiedon
IG: www.instagram.com/djrichiedon
MC: www.mixcloud.com/djrichiedon
IT: https://itunes.apple.com/podcast/dj-richie-don-podcast/id305333094?mt=2
This MP3 is free to download if you want to listen offline. If you like what you hear or wish to leave feedback, please comment underneath. Hit the share button & tweet me at @djrichiedon & thank you for listening. Note: This Podcast may contain explicit language.