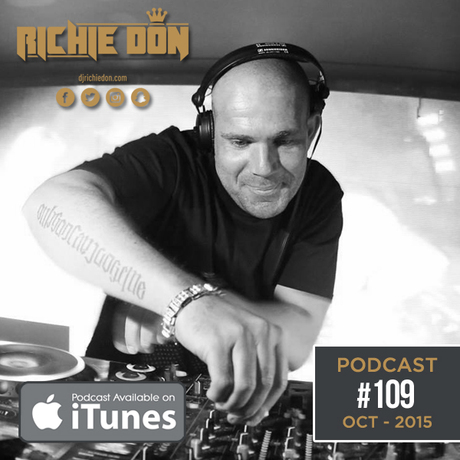 Podcast 109 – October 2015 – The House, RnB and Drum and Bass Podcast.
For October's episode we intro the show with bumpy house flavours to set the pace for the 80 minute musical masterpiece. We slip into a section of smooth RnB to break, before we pick up the pace into drum and bass, set for the finale of house and all things big bass.
This MP3 is 128kbps. Perfect to download to your mp3 player, SD card, CD slot or USB key.
Got an Iphone, Ipod, Ipad? Then download the 'Podcast' app and search 'DJ Richie Don' through ITunes to automatically receive future episodes free (click subscribe).
Links: www.djrichiedon.com | FB: /djrichiedon | T: @djrichiedon | IG: djrichiedon

Podcast Intro
House:
Be Right There - Kid Cut Up ft Diplo & Sleepy Tom
Let's Get It On - Mayfair Mafia Remix ft Marvin Gaye
Don't Be So Hard On Yourself - DJ S.K.T Remix ft Jess Glynne
Heaven - Alex Adair
Catchfire - EDX Miami Sunset ft Spada and Anna Leyne
Walking Away - FooR Remix ft Craig David
Saving My Life - Gorgon City ft Sam Romans
Somebody To Love - Mr. Belt, Wezol & Freejak
Turn The Music Louder (Rumble) - KDA feat Tinie Tempah ft Katy B
What Do You Mean - Delirious & Alex K Remix ft Justin Bieber
All The Single Ladies - Beyonce ft Danny T
Ain't Nobody Loves Me Better - Tom & Collins ft Felix Jaehn ft Jasmine Thompson.
RnB / Top 40:
My Number 1 - Blender ft Stylo G and Gyptian
My House - Flo Rida
Do It Again - Pia Mia ft Chris Brown & Tyga
Can't Stop - Jason Edward & Kid Cut Up ft Red Hot Chili Peppers
The Fix - Joey Funk ft Nelly ft Jeremih
Sections - Hurricane Chris ft Ty Dolla $ign
Do It Anyway - Diztortion ft Sinead Harnett and Wiley.
Drum and Bass:
Redemption - Sigma & Diztortion ft Jacob Banks
Good Times - Cyantific ft Ella Eyre.
House and Bass:
Show Me Love - Catch 44 Remix
On A Ragga Tip - My Digital Enemy
Super Mario Theme - Artistic Raw Nintendo
Okay - Dave Winnel ft Shiba San
JZ In Paris - Deekline
95 - New York Transit Authority
That's Not Me vs Intoxicated - Skepta ft JME
Lights - Convex & Fransis Derelle ft Ellie Goulding
Powerful - Gregor Salto ft Major Lazer ft Ellie Goulding & Tarrus Riley
Next To Me - Gregori Klosman ft Otto Knows
That Ass - Arthur White
The Max - Chocolate Puma ft Kris Kiss
Fill Me In vs Where Are U Now Remix - Craig David
Where's the Pulse X Now Mash Up - Richie Don & Goody VS Skrillex, Diplo & Justin Bieber.
NEW CD OUT – Sounds of Summer – Vol 3. Get ALL 3 copies, 1,2,and 3 sent to your doorstep - order here: >> http://goo.gl/uShJ59
WATCH THE NEXT LIVE PODCAST LIVE - VIA WEBCAM OR NOW THROUGH 'PERISCOPE'
> Nov 3rd 2015 - 22.00GMT www.djrichiedon.com / or add djrichiedon on periscope.
Links:
T: @djrichiedon
W: www.djrichiedon.com
YT: www.youtube.com/richiedon
FB: www.facebook.com/djrichiedon
IG: www.instagram.com/djrichiedon
MC: www.mixcloud.com/djrichiedon
IT: https://itunes.apple.com/podcast/dj-richie-don-podcast/id305333094?mt=2
This MP3 is free to download if you want to listen offline. If you like what you hear or wish to leave feedback, please comment underneath. Hit the share button & tweet me at @djrichiedon & thank you for listening. Note: This Podcast may contain explicit language.