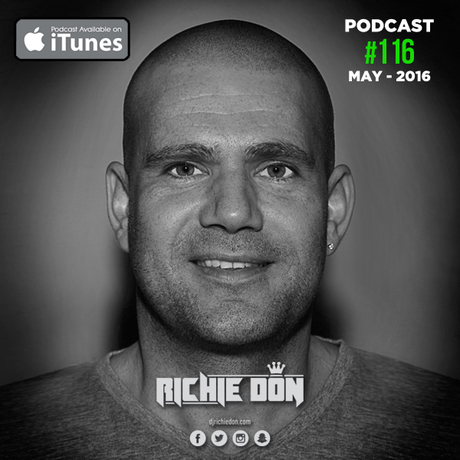 DJ Richie Don – House, RnB and Future Bass Podcast #116 – May 2016.
For May we play some serious sounds for summer 2016. See the latest CD 'Sounds of Summer Vol 4'. If you want this CD in your life, head over to https://www.djrichiedon.com.
Got an Iphone, Ipod or Ipad? Download the 'Podcast' app - search 'DJ Richie Don' and subscribe to receive future episodes automatically for free.
** NEW ** WATCH FACEBOOK LIVE – EVERY SUNDAY 9pm – Search DJ Richie Don
Podcast 116 Intro:
Work From Home - DJ Cameo, Myles, & Gavin Francis Remix ft Fifth Harmony, Ty Dolla $ign
Say You Do - Blinkie vs Sigala ft Imani & DJ Fresh
Walking Away - DubRocca Remix ft Craig David
U Got It Bad - DAZZ 2016 Remix ft Usher
You Don't Know Me - Slideback & Philippe B Remix ft Armand van Helden
How Will I Know - Danny T Remix ft Whitney Houston
No Money - DJ Squared ft Galantis
Stupid Hot - Jolyon Petch Remix ft Vandalism & Bombs Away
We Be Burnin - Recognize It - Tall Boys Bootleg ft Sean Paul
King Of The Dancehall - White Label DJs Remix ft Beenie Man
Jack - DJ Mpulse Chest Bootleg ft Breach
Crank It - Kideko & George Kwali
Right Here, Right Now - The Stickmen Remix ft Fatboy Slim
Closer Than Close - Remix - Freejak & Safety First ft Rosie Gaines
Pony - Matt & Kendo Bootleg - Ginuwine
Touch - Tough Love ft Arlissa
What Do You Mean Vs Could Be The One - Switch Disco Edit

If It Ain't Love - Jason Derulo
One Dance - DJ Cable 130-104 Transition ft Drake, Wizkid & Kyla
Cheap Thrills - Tall Boys Talk Dirty Bootleg ft Sia and Sean Paul
Work From Home - Fifth Harmony ft Ty Dolla $ign
What A Night - Kat Deluna ft Jeremih
Get Low, Turn Down For What Blend - Lil Jon & The East Side Boyz
Who's That Girl - Ruen & Mister Gray Bootleg ft Eve
Pump It Up - DJ Valid Remix ft Joe Budden
I Took A Pill In Ibiza - Mr Collipark Remix ft Mike Posner

Set You Free - 7T9 Remix ft N-Trance
Man With The Red Face - Blandy & The Funky Truckerz
Cafe Del Mar 2016 - Dimitri Vegas & Like Mike vs Klaas Remix
Stand By Me - 1DAFUL Need Bootleg ft Ben E King
Get Busy - Matisse & Sadko ft TITUS
Blow This Club - Max Vangeli & Flatdisk
51 - CURBI
Elevator - Erik Arbores & DJ Fresh
FLAGS - Ingrosso, LIOHN, Salvatore
Links: TWITTER | WEBSITE | YOUTUBE | FACEBOOK | INSTAGRAM | MIXCLOUD | ITUNES
Note: If you like what you hear or wish to leave feedback, please comment underneath. Hit the share button or tweet @djrichiedon & thank you for listening. Please be aware some Podcast's may contain explicit language.
> NEW FM RADIO SHOW – Funky SX 103.7fm - Thursdays 19.00 – 21.00