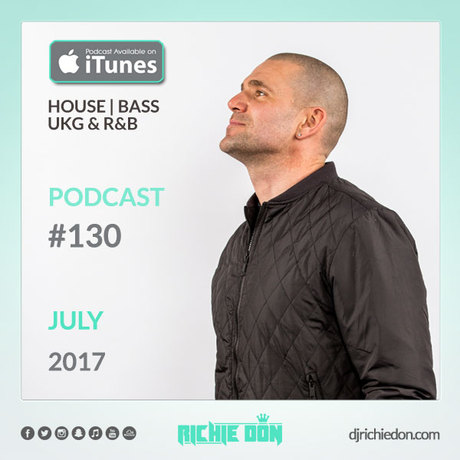 July 2017 | House / Garage / Bass / RnB / Top 5 / Bass Box Podcast #130.
Check the website for more downloads: www.djrichiedon.com. This episode has something for everybody and is 'must have' download. Enjoy!
>> Richie Don Podcast Intro:
Instruction - Demi Lovato n Stefflon Don Jax Jones
Strip That Down - Joe Reece Show Me Edit ft Liam Payne n Quavo
Real Life - Gorgon City n Duke Dumont
All Stars - Martin Solveig ft Alma
Lovin U - Coldabank
Came Here For Love - Sigala n Ella Eyre
Hold Up - Kiko Franco Remix ft Leo Cury
My Desire - DubRocca Remix ft Amira
Ghetto Supastar - Rhythm Roxx n Mister Barclay Remix ft Pras n Mya
>> UKG:
Work U Out - FTSE ft Shola Ama n Donae'o
Did You See - Conducta Remix ft J Hus
Fallen - Like Son Remix ft LO'99 n Marshall F
Making Me High - KIKKR ft Ideh
>> RnB:
Wild Thoughts - DJ Khaled ft Rihanna
Rude Boy - Davey B Swalla Blend ft Rihanna
Bestie - Yungen ft Yxng Bane
Unforgettable - French Montana ft Swae Lee
Disco Inferno - DJ Poun & F-Dreams Remix ft 50 Cent
Replay - Kees Sjansen 2017 Remix ft Iyaz
iSpy - Kyle ft Lil Yachty
>> July Top 5 Club Bangers:
5. Good Life - Made Monster Remix ft Kanye West n T-Pain
4. Freek - Tom Budin
3. More Than Friends - James Hype ft Kelli-Leigh
2. Bad and Boujee - Lil Uzi Vert, Majestic Remix ft Migos
1. We Just Dont Care - DJ SKT ft Shy FX
>> Saturday Soundtrack:
9PM - Massivedrum 2017 Remix ft ATB
Yeah Yeah - DJ Smerk vs Chocolate Puma ft Bodyrox n Luciana Caporaso
Crank Dat vs P.I.M.P. Steel Drum Edit ft The Stickmen
Ignition - Delirious n Alex K Puro Pari Remix ft R Kelly
Addison Lee - Tom Zanetti Remix ft Not3s
Uber - Tom Zanetti, Litek, Curtis Clacey
>> Open The Bass Box:
Bangarang Bass - Skrillex vs Proper Tings
Without Me - Syskey 2017 Remix ft Eminem
Pump - Valentino Khan
House & Gash Vip Mix - Jack n Danny
I Go Deep - AABEL
House Shake - Torro Torro
Boom - RICCI
Outro.
Got an Iphone, Ipod or Ipad? Download the 'Podcast' app - search 'DJ Richie Don' and subscribe to receive future episodes automatically for free.
#Watch the next #FacebookLive show July 30th @ 9pm.
Like these sounds? Check out the new CD's available at www.djrichiedon.com.