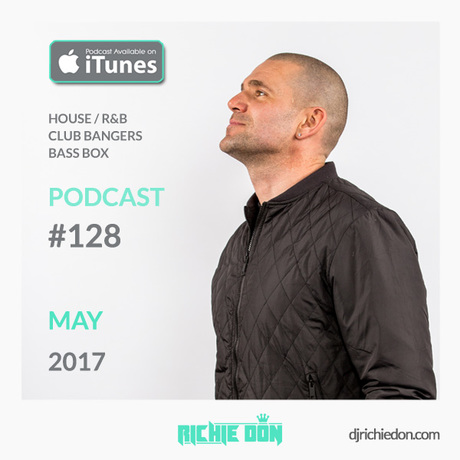 House / RnB / Grime / Top 5 / Bass Box Podcast #128 – May 2017
Check the website for full info and more downloads: www.djrichiedon.com. This episode has something for everybody, and is a 'must have' download. Enjoy.
>> Richie Don Podcast Intro:
Special - Ryan Blyth & After 6 ft Luther Soul
Sambuca - Freejak Finder Edit vs Wideboys n Dennis G
Together - Est1987 Blues For You Remix ft 24 Hour Experience
Dreams - Alex Ross ft Dakota
Passionfruit - Delirious & Alex K Remix ft Drake
Take Care - Ethan James & SamRobs Remix ft Drake n Rihanna
Never Be Like You - Divide 2017 Remix ft Flume n Kai
Heavy Dirty Soul - Sonny Bass Remix ft Twenty One Pilots
>> RnB:
No Lie - Sam Feldt Remix ft Sean Paul n Dua Lipa
Passionfruit - Drake
Diary - Fuse ODG ft Tiwa Savage
Dun Talkin - Kojo Funds ft Abra Cadabra
One Minute Man - Delirious & Alex K Remix ft Missy Elliott n Ludacris
No Scrubs - Monopoli Shape Of You Blend ft TLC
Blem - Drake
Whippin - Kiiara ft Felix Snow
>> Grime:
I'm Wavey - The Heavytrackerz ft Double S, Ghetts n J2k
I Win - Lethal Bizzle ft Skepta
Reload That - Apple Remix ft Elf Kid
>> May Top 5 Club Bangers:
5. Wonderwall - DJ Zee Remix ft Oasis
4. Nite & Day - Todd Terry & DJ S.K.T
3. The Next Episode - Liu 2017 Remix ft Dr Dre n Snoop Dogg
2. X-Ray Vision - Vato Gonzalez ft Kris Kiss
1. Hands Of Time - Ratpack vs Wideboys
>> Saturday Soundtrack:
Ready Or Not - TRP & Ben Rainey Remix ft Fugees
Like A Drug - Tough Love
Let's Get Down To Business - Unknown
Feel Alive - LiTek ft DKB
Must Be Love - Richard Grey feat Audax
Seduce - RMA
D.A.N.C.E - Yultron Remix ft Justice
>> Open The Bass Box:
Border - Ten Eight Seven ft FineArt & My Nu Leng
Be Faithful - Chris Royal Bootleg ft Fatman Scoop n Crooklyn Clan
Take Me Higher - Mr. Belt & Wezol
HBHG - JVST SAY YES
Casanova - Thomas Hayden & Andrea Lombardi
No. 1 Disco - Bingo Players
Droppin' It Low - Nicky Genesis
Drop Top - WKM
West Coast Party - Paige
Satisfy - D.O.D
2NITE - Lo'99 & Sinden
Outro.
Got an Iphone, Ipod or Ipad? Download the 'Podcast' app - search 'DJ Richie Don' and subscribe to receive future episodes automatically for free.
#Watch the next #FacebookLive show. Fortnightly Sundays 9pm
Search DJ Richie Don
Like these sounds? Check out the new CD's available at www.djrichiedon.com