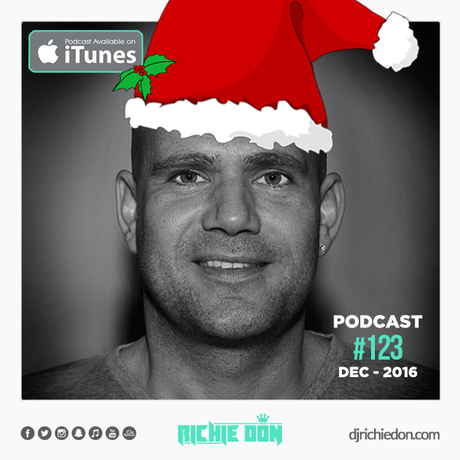 Podcast #123 – Dec 2016
What a year of incredible music it's been so lets go out with a bang! This December podcast brings the best in Future House, RnB, Grime, Bass, Top 5 Club bangers for December and Deep, Deep House for the last fresh Instalment of new music for 2016! Turn it #AllTheWayUp and enjoy.
Check the website for full info and more downloads: www.djrichiedon.com
>> Future House:
Love On Me - CID Remix ft Galantis n Hook N Sling
The Mack - Danny Dove vs Offset Remix ft Nevada, Mark Morrison n Fetty Wap
Would I Like To You - Cash Cash Remix ft David Guetta & Cedric Gervais
Day & Night - Scott Forshaw & Greg Stainer Remix ft Kid Cudi
24K Magic - Danny Dove Remix ft Bruno Mars
D.W.N.D (Original Mix) - Bodhi Collective & FreeFall
Let Me Think About It - Rudeejay & Da Brozz 2016 Remix ft Ida Corr vs Fedde Le Grand
Closer - Danny Dove & Nathan C Remix ft The Chainsmokers ft Halsey
Touch Me - DubRocca Remix ft Rui Da Silva and Hayley May
> Top 5 Club Bangers:
5. Danger - JKAY ft Shola Ama, Majestic & That Guy
4. Luv - DEAN-E-G Remix ft Tory Lanez
3. Ride On Time - Mobin Master & Trillogee ft Alfreda Gerald
2. True Colours - Ill Phil Remix ft Sammy Porter and Grace Fleary
1. What You Say - Ken Loi Remix ft Exodus, Richard Grey
>> RnB / Hip Hop / Grime / Party Breaks:
24K Magic - Rock-It! Scientists Hype Edit ft Bruno Mars
Hey Ma - DJ Smerk ft Cam'Ron and Juelz Santana
Leikeli47 - 'Money
Body - FWB Remix ft Dreezy n Jeremih
LUV Remix - Tory Lanez ft Sean Paul
Pick Up The Phone - Travi Scott ft Young Thug Amp Quavo
Deeper - Taya
Broccoli - Joe Maz Remix ft D.R.A.M. n Lil Yachty
Gunfingers - P Money, Skepta ft JME & Wiley
Can't Go Wrong - Wiley
Black Beatles - Rae Sremmurd ft Gucci Mane
>> Open The Bass Box:
Let Go (NiT3 Tales Pt.2) - Shift K3Y x Chris Lorenzo
Up And Down - Zed Bias Remix ft Kattison
Heat - BVSSICS
Pompeya - Taao Kross
Vibrations - ft Ephwurd
Get Money - Jaycen A'mour
Black Beatles - James Hype Remix ft Rae Sremmurd ft Gucci Mane
Find Me - Tom Zanetti & KO Kane ft Sigma ft Birdy
Mariah's Xmas Gash - Tronald Dumps
Got an Iphone, Ipod or Ipad? Download the 'Podcast' app - search 'DJ Richie Don' and subscribe to receive future episodes automatically for free.
#Watch the #FacebookLive show – Every Sunday 9pm - Search DJ Richie Don