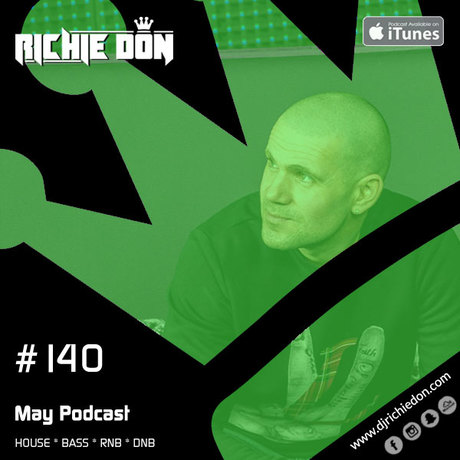 May 2018 | Fresh new music for May, featuring the best in house, bass, rnb and dnb.
Got an Iphone or Ipad? Download the 'Podcast' app, search 'DJ Richie Don' and subscribe, to receive future episodes automatically from #Itunes. For links, albums, limited edition USB keys, and much more visit: https://www.djrichiedon.com - turn it up and enjoy.
Podcast Intro - Richie Don
The Rockafeller Skank - NuBass Bootleg ft Fatboy Slim
Don't Stop The Party - DJ Smerk Trump-It ft Pitbull + TJR
Congratulations - DJ Frequency X Booyah ft Post Malone
The Middle - Booyah Riot Remix ft Zedd, Maren Morris + Grey
IDGAF - Jolyon Petch Remix ft Dua Lipa
Black Betty - Christian Lukes Remix ft Ram Jam
Gods Plan - Thornballin + N'bition Remix ft Drake
Freaky Friday - DEAN-E-G Remix ft Lil Dicky + Chris Brown
Vroom - T. Matthias Remix ft Yxng Bane
Touch The Sky - Ben Rainey + Ryan Nichols Remix ft Kanye West
I Need A Painkiller - MK Remix ft Armand Van Helden
Make Me Feel - EDX Dubai Skyline Remix ft Janelle Monáe
Bum Bum Tam Tam - Jax Jones Remix ft MC Fioti
Friday Night - Richard Vission ft Johnnie Mikel
Pump It Up - Elliott Kay Remix ft Joe Budden
Bet You Can't - DJ S.K.T
Snoop's Drop - DJ Dark & Mentol + MD DJ
Gammy Elbow - The Stickmen 90's Edit ft Zinc & Chris Lorenzo
Gods Plan - Holy Goof vs Richie Don Edit ft Drake
Working With - Wittyboy
Alone - Calvin Harris Remix ft Halsey + Stefflon Don
Genres - PBH + Jack Shizzle + AFISHAL
One Kiss - Calvin Harris + Dua Lipa
Lullaby - TRP Remix ft Sigala + Paloma Faith
Set You Free - Craig Knight Remix vs N-Trance
Cross Bone - Freejak
Let's All Chant - Mr Belt + Wezol
> Urban:
I Like It - Cardi B
Be Faithful - Kerry Glass Magenta Riddim ft Fatman Scoop
Yeah - Kees Sjansen Remix ft Usher, Ludacris & Lil Jon
Nice For What - Delirious & Alex K Puro Pari Remix ft Drake
Chun-Li - Nicki Minaj
> DnB:
Shape Of You - Chopstix Dubplate - Ed Sheeran ft General Levy
Rhythm & Gash - Phibes
Take It Up - Wilkinson & Sub Focus
After Glow - Phibes Remix ft Wilkinson
Ain´t Nobody - Tony Anthem Remix ft Jasmine Thompson
Outro.