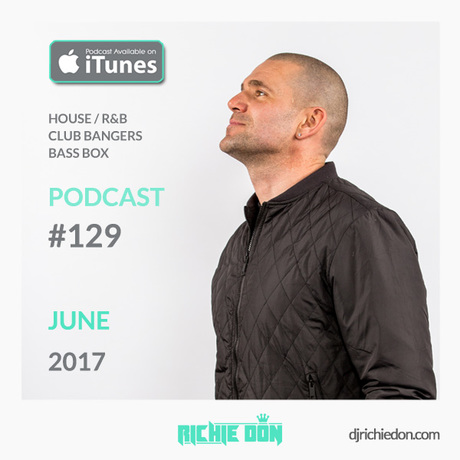 June 2017 | House - Garage - Grime - Bass - Club Bangers - BassBox
Check the website for full info and more downloads: http://www.djrichiedon.com.
This episode has something for everybody and is 'must have' download. Enjoy!
>> Richie Don Podcast Intro:
Cali Blues - Liquid
Cant Get Enough - 2017 Mix ft Joshrox
Love Like This - Rhythm Roxx & Mister Barclay ft Faith Evans
No Scrubs - Damian Harrison Remix ft TLC
Passionfruit - DEAN-E-G Remix ft Drake
Addison Lee - Brunelle Remix ft Not3s
On My Mind - Alex Ross Remix ft Disciples
>> June Top 5 Club Bangers:
5. I Love You - David Puentez Remix ft Axwell + Ingrosso + Kid Ink
4. Intoxicated vs Renegade Master - Stickmen Mashup ft Martin Solveig + Wildchild + Brohug
3. Another Chance - Dan Judge + Jordan King ft Roger Sanchez
2. Sunset - Control-S ft Big Narstie + Camilla Destiny
1. The Next Episode - Liu 2017 Remix ft Dr Dre
>> RnB / Grime:
Got Your Money - DJ Serg ft Ol' Dirty Bastard + Kelis
Body 2 Body - Wavy Boy Smith
Body - Sean Paul ft Migos
Don't You Feel It - Sub Focus
Celebrate - Lethal Bizzle ft Donaeo + Diztortion
Lightwork - Tinie Tempah
I Win - Lethal Bizzle ft Skepta
Cold – Stormzy
>> Saturday Soundtrack
Get Up - Freejak vs Bassheads
Alright - Cream & Gary W ft Red Carpet
Hit The Road Jack - Tall Boys vs Cazztek + Throttle
The Chunky Housework Bootleg - The Stickmen
Whoop Getting Higher - Tag Team vs Moksi
Gala vs Calabria vs Money Maker - Gala, Enur ft Natasja, Jewelz & Sparks
You Don't Know Me - Cantaffa Remix ft Jax Jones + RAYE
You Want Me - Fabian Dubz Remix ft Tom Zanetti
>> Open The Bass Box:
Falling - BROHUG Remix ft Alesso
Big For Your Boots - LO'99 & Double Agent ft Stormzy
Bassline Riddim - Vato Gonzalez
I Want You - Chris Lake
Boom - Kidd Spin ft Tiesto + Sevenn
Killing In The Name - SirBenCharles Remix ft Rage Against The Machine.
Got an Iphone, Ipod or Ipad? Download the 'Podcast' app - search 'DJ Richie Don' and subscribe to receive future episodes automatically for free.
#Watch the next #FacebookLive show. Fortnightly Sundays 9pm
Search DJ Richie Don
Like these sounds? Check out the new CD's available at www.djrichiedon.com