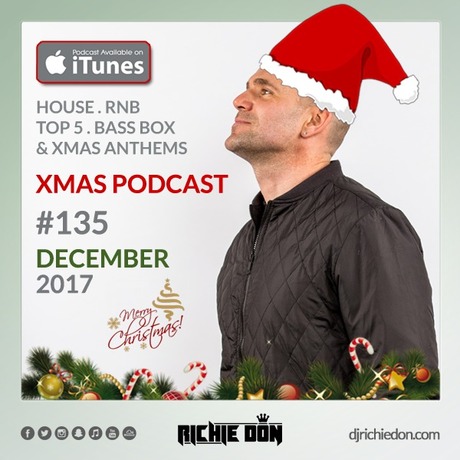 Dec 2017 | All Things: House / Bassline / Top 5 December Bangers / Future Floor fillers / RnB / Bass Box / Xmas Anthems and so much more.
An essential stream or download. The last for 2017 - Thank you for your continued support!
Check the website for downloads for much more: https://www.djrichiedon.com - Enjoy x
>> Podcast Intro:
What About Us - Cash Cash Remix ft Pink
Won't Forget You - Mandal + Forbes Remix ft Pixie Lott ft Stylo G
Harder - Tiesto + KSHMR ft Talay Riley
Never Gonna Let You Go - Jacked Remix ft 22 Lockdown
Do You Really Like It - MDB Remix ft Pied Piper + The Masters Of Ceremonies
Just In Case - DubRocca Remix ft Jaheim
Shake That - Richie Don Edit ft Danny Dove + TelBoy
Good Feeling - Lewis Roper & Secret Soul Remix ft Flo Rida
Mi Gente - Alex Ross Remix ft J Balvin + Willy William
Rock Wit - Ku De Ta Remix ft Ashanti
Silence - Blonde Remix ft Marshmello + Khalid
Heartline - Callum Knight Remix ft Craig David
Karate - Wideboys Screwface Remix ft Dominique Young Unique
Lonely Together - Kastra ft Avicii + Rita Ora
>> RnB + Future Hits:
Rock Your Body - Tall Boys ft Justin Timberlake
Volcano Mi Gente - Sean Paul
Bojangles - Pitbull
Get Busy - KidCutUp ft Sean Paul
Ding-A-Ling - Stefflon Don ft Skepta
Pogo Stick Remix - Shapes, Milli Major, Majestic, Grim Sickers + Example
Forever - Quavo, Sebastian Kole + Sigma
>> December Top 5 Bangers:
5. Thank You - Alternative Kasual 2017 Remix ft Dido
4. Voodoo Jack Booty - The Stickmen
3. 17 - Tchami Remix ft MK
2. Cola - Freejak Remix ft CamelPhat + Elderbrook
1. I've Got The Power - Cazztek Remix ft Snap
>> Bass Box:
Sweet Dreams - Dibs & MGM Karate Bootleg ft Eurythmics
Elevator - Chusap
Boogieman - BROHUG
Primal Call - DJ Zee Remix ft Gorgon City
Pinata - Throttle & Niko The Kid
Horn Song - Fraanklyn
Let The Music - Paul Morrell Remix ft Loveland
>> Xmas Anthems:
Merry F*kin Christmas - Show N Prove
Sleigh Bells Clap - Harry Connick Jr
Wonderful Christmastime Party Tool - Paul McCartney
Mariah's Xmas Gash Fly's Bi - Richie Don
Barbra Christmas - Duck Sauce Vs The Loose Cannons
Walking In The Air - Dubstep Mix ft Allied Jones Vs The Snowman
Outro.
Got an Iphone, Ipod or Ipad? Download the 'Podcast' app via the app store - search 'DJ Richie Don'
and remember to subscribe to receive future episodes automatically, for free, or search #Itunes #djrichiedon.
#Watch the #Facebook Live shows fortnightly on Sundays @ 9pm.