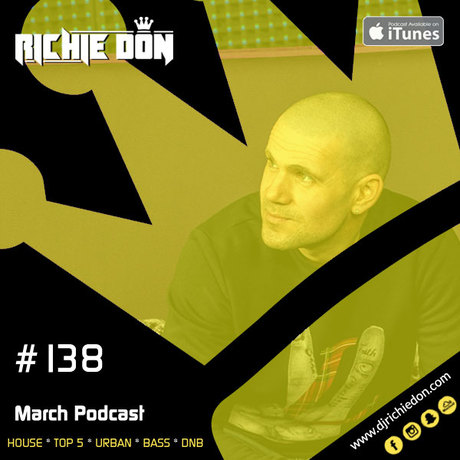 March 2018 | All your favourites of house, bass, drum and bass, urban and UK. We open the bass box (a mash up special) and present the 5 biggest tunes for March, and much more.
Got an Iphone or Ipad? Download the 'Podcast' app, search 'DJ Richie Don' and subscribe, to receive future episodes automatically from #Itunes.
For links and more info visit: https://www.djrichiedon.com.
Richie Don - Podcast 138 Intro
Finesse - Country Club Martini Crew Remix ft Bruno Mars
Set It Off - DAZZ ft Tube, Berger + Juliet Sikora
This Girl - Ben Rainey Hands Up Edit ft Kungs
Seven Nation Army - PBH + Jack Shizzle ft White Stripes
Make Me Feel - Steff Da Campo + Siks
17 - Chris Ultranova + PANFR Remix ft MK + Carla Monroe

>> March Top 5 Club Bangers:
5. Call Me - PBH + Jack Shizzle ft Michelle McKenna
4. Push Riddim - Vato Gonzalez
3. What We Started - Sammy Porter ft Jessica Agombar
2. Deja Vu - Kastra + Damien Anthony Remix ft Timmy Trumpet n Savage
1. Everywhere - DJ Zinc

>> Urban:
Check - Kojo Funds ft Raye
Jumanji - B Young
Game Changer - Mist
Ain't Bothered - 23 Unofficial
No Don - Lotto Boyzz
Where The Party At - Jagged Edge ft Nelly
Tip Toe - Jason Derulo ft French Montana
My 9ine - Kojo Funds
God's Plan - Drake

>> Open The Bass Box Mash Up Special:
After All - Habstrakt Remix ft Slander + YOOKiE
Smells Like Teen Spirit - Nirvana
Just Like That - Tom + Jame
Trump It - Gianluca Vacchi
Ride On Time - Black Box
Show Me Love - PBH + Jack Shizzle's ft Tchami vs Robin S
House Works - Ben Rainey ft Jack + Danny Vs Jax Jones
You Don't Know Me - Ben Rainey Warehouse Edit ft Jax Jones
Girls Like Us - Dreem Teem vs Roska Dub ft B-15 Project
Bitcoin - PBH + Jack Shizzle ft H Love
Battle - Cause + Affect Remix ft Riddim Commission
Need You VS Antidote - PBH + Jack Shizzle Mash Up
Rhythm Of Devotion - Corona Vs Bingo Players
Bring The Friends Back - Richie Don Edit ft Don Diablo, Justice n Watermat
Bump + Grind - Vato Gonzalez ft Scrufizzer
>> Drum + Bass:
At Last - Dope Ammo + Marvellous Cain ft Amiah & Gigante
Ready Or Not - Smash + Grab
Reet Petite - Smash + Grab
17 - Gravit-E ft MK + Carla Monroe
Outro